Stewed pasta: 5 recipes at home
Good morning! Today I present to your attention a very simple and favorite dish for many families. Some time ago I gave you, but only the most important component was potatoes, this time there will be pasta and how you could guess the stew.
Probably pasta with stew is loved by everyone, both adults and children, especially if you made quality meat or such canned food yourself. Having laid out on any serving plate you can decorate this dish with any vegetables and everyone will be delighted with what they see.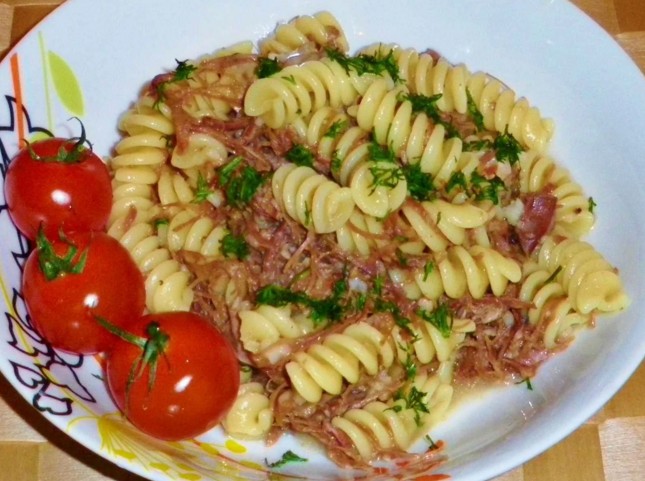 I probably will never forget this taste, I often ate such beauty in the school canteen, and in the kindergarten I was also given. It turns out nourishing and very tasty, and you make such a dish? Be sure to write your review below under this article, tell us about your secrets.
Pasta with stew at home
Perhaps I'll start with one option, which turns out to be incredibly tasty and beautiful, because tomato paste is used, plus the smell of garlic does its job.In general, the final result will definitely please you, you will fall in love with this meat delicacy. You can say this is another option for the fleet, only he with the stew, and not with the stuffing, as we did with you in the previous article.
Important! If you have not yet learned how to cook makaroshka correctly, then do not worry, this is easy to do if you read the step-by-step instruction that I posted here.
To get started, buy the list of all the necessary products, and most importantly, choose a good stew, take about half a kilogram, and of course, do not forget about the most important ingredient. With the choice of stews, this video will help you to understand in more detail, from the Test Purchase program.
Well, now let's proceed directly to the cooking process itself.
We will need:
pasta or spaghetti - 300 g
beef or pork stew - 1 bank
onions - 1 pc.
salt, pepper to taste
vegetable oil
red wine vinegar - 1 tbsp
garlic - 2 cloves
Tomato paste - 2 tbsp
spices to taste
sugar - 1 tsp
fresh greens
Cooking method:
1. So, start with the most basic point, this cooking noodle. Boil it in pans in the manner recommended by the manufacturer, there is an instruction on each package, following which you definitely cannot go wrong.But, and if you are new to this business, then you can use this note. Do not forget to salt the water so that the pasta is not fresh and stir constantly, so that they do not stick together.
As soon as you see that they are getting ready, they should be tasted.
2. In the meantime, you have to peel the onions, then cut it into small pieces and send it to the pan with vegetable oil. Add a spoonful of sugar and salt, mix.
3. Chop the garlic cloves with a finely sharp knife.
4. Onion fry until golden brown in the area of ​​five minutes, then throw in chopped garlic, stir and fry for about a minute.
Remove the stew from the jar, remove all the unwanted fat, push it into a mush with a fork.
5. Add wine vinegar to the beautiful fried vegetables, it will certainly begin to evaporate and fizz immediately, and then add a couple of spoons of tomato paste and mix, fry again for about 1-2 minutes. After all the manipulations add the whole stew, stir and simmer until boiling.
6. As soon as you see that the noodles are ready, pour some water from them in a ladle and drain the rest.
7In spaghetti, add one tablespoon of vegetable or butter, stir, so they do not stick together.
8. We move on as soon as you see that the stew is boiling, sprinkle with paprika and coriander with black pepper. And now pour some water that you left from pasta. Pour it as much as you need, depending on the consistency you want. Tomite in this form is not more than three minutes.
Next to the sauce, make the boiled pasta and mix everything thoroughly.
9. Chop any greens with a kitchen knife, such as dill and parsley.
10. It is necessary to beautifully serve on the table, this is how it can be done, in the form of such a hill. Bon Appetit!
Recipe for pasta in a pan with tomato paste
As they say, everything is ingenious and simple, well, it doesn't get any easier. Consider another option, it is similar to the previous one, but it will not be expensive, because not so much need to use ingredients. Absolutely cheap and budget option, especially if you have your own homemade stew on hand. Then the dish will turn out even tastier and dinner or the second dish will seem insanely appetizing.
We will need:
any stew - 0.5 kg
onion - 1 pc.
Pasta - 300-400 g
cheese - 100 g on request
tomato paste or can be without it - 2 tbsp
Origano and dried basil or your favorite seasonings - pinch
Cooking method:
1. Let's start with zazharki, you need to chop the onion with a knife, place it in a frying pan and fry in vegetable oil until a beautiful yellowish crust. Next, add the tomato paste and lightly simmer for 1-2 minutes.
2. Open the jar and place the stew to the onion, stir until the mass is homogeneous, stew with the lid closed for 5 minutes on low heat. Plus sprinkle with origano and basil, you can use black or red pepper.
3. In the meantime, boil any sort of macaroni, drain the water through a colander and then add it to the stew. Stir and fry for about 2-3 minutes.
4. That's the beauty that can come out.
5. It is time to serve the dining table, call your household to taste this dish. And I wish you bon appetit!
Pasta in a multivariate Redmond or Polaris with a stew
In fact, you can take any recipe from this note and easily adapt the slow cooker. In each model there is a mode Frying without a lid, that's what you need to do on this dish.The bowl in this process, as it replaces the usual griddle. Therefore, take any option and cook.
And in order for me not to repeat myself, I found a very special and new recipe that you can use in your kitchen and treat your loved ones and relatives. What is its unusual? In that we will jointly cook both macaroni and stew, this will generally speed up the process. Moreover, that there will not even need onions and tomatoes.
We will need:
pork stew - 1 jar
shell horns or bows - 300 g
water - 1.5 st.
salt and herbs to taste
Cooking method:
1. If on the surface of the stew you see a large layer of fat, then first remove it. Spread the pieces of meat into fibers with a fork.
2. But the noodles can take any, even pasta, bows.
3. Next, put the stew meat into the cup of the slow cooker and cover with water, turn on the Frying mode and simmer for a couple of minutes after boiling. Or you can immediately pour pasta on the stew. It turns out that you make this dish without cooking pasta. Option for the lazy, but it is not inferior to others, verified.
4. So, zalet all the water and simmer on the selected mode Frying 30 minutes. You can select another mode, for example Plov.
Do not forget that you need to immediately add seasoning to taste, you can even pepper and salt. If you do on Frying, then make it all at the very end.
5. And to make it look colorful and fragrant, decorate with fresh green onions or dill. Do not forget to pour sweet tea and sit back. Have a nice.
Delicious pasta in a fleet
I want to offer you for viewing this storyline, from which you will learn and learn the little secrets of making such an amazing and quick meal in a hurry, any hostess should know about it, even if experienced, even just a beginner. Everybody loves everything in a navy style; make at least one of minced meat, at least one of stew:
Horns with stew and tomatoes
If you want to surprise your relatives and friends altogether, then add this unusual delicacy to sweet pepper and tomatoes. Surprised? And it turns out great and unreal beautifully. A great option to serve spaghetti in an interesting way, while spending a minimum of time and products.
Conveniently and quickly, you can cook such a super economical dish in almost 5 minutes.
We will need:
beef stew

—

1 bank

bulb onions

—

tomatoes

— 1-

Bulgarian pepper

—

pasta

- 240 g

garlic

—

2 teeth

—

100 ml

—

taste
Cooking method:
1. This time, let's start with beef stew, pick up and open a jar, and then place in a frying pan and pour a little water, stir and simmer for 5 minutes over low heat.
2. Crumble with a knife fresh juicy tomatoes on cubes, and then Bulgarian pepper and onions.
3. Add the sliced ​​vegetables to the pan, stir and simmer until water is evaporated and the pepper is soft with onions. You can salt if you want and pepper.
At the very end of cooking, add garlic cut into small pieces to give a certain aroma and savory smell.
4. Boil the lashpa in salted water, then drain the liquid from the pan using a colander, put it on a platter in portions. Pour such an unusually tasty meat sauce with vegetables. Bon Appetit!
I have it all, I'm glad you were with me. Share your opinion, comment, click on the buttons of social networks and come to visit more often.