How to keep a tan after the sea?
After a pleasantly spent holiday on the sea, you want to keep for a long time not only memories of a wonderful time spent, but also a brown-chocolate tan, which gives us a gentle sun off the coast. To do this, it is enough to know a few secrets of the technique of proper preparation and care of tanned skin.

For a week of staying at the sea, even people whose skin is distinguished by aristocratic pallor, have a chance to get a fairly even and durable bronze tan.
The main basics of beautiful tanning consist of only three rules: pre-cleansing of the skin, good protection during tanning and adequate nutrition and hydration after sun exposure.
Proper preparation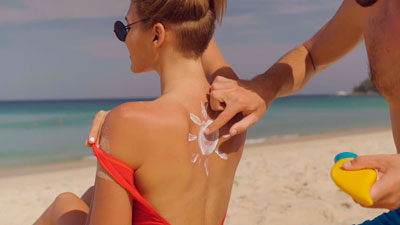 To tan well, and most importantly evenly lay down on your skin, it is necessary to pre-clean it.It is best to use special tools: scrubs and peeling. However, there are a few nuances. You should not use tools based on fruit acids, because if you use this scrub to clean the skin immediately before tanning, you risk getting a skin burn. Because they enhance the action of the sun's rays.
For the best effect from peeling and scrubs, preparatory purification procedures should be started at least one week before the long-awaited vacation. During this time, you are well enough to prepare your skin for tanning. To avoid allergies to purchased products and save your budget, prepare a home scrub or scrub yourself.
Recipes
With coffee.

Best suited for such a scrub coffee designed for cooking. It is natural, well crushed, but at the same time it has a hard structure of grains that exfoliate well and cleanse the skin. In addition, coffee gives an additional brown shade. To make a coffee scrub at home, just take 200 grams of ground coffee and mix it with 1 teaspoon of any natural oil. For example, olive, burdock or castor.Apply scrub to massage movements, well working through every part of the body. Thus, you not only cleanse the skin, but also make it more elastic, toned and smooth. Because the coffee scrub is the number one tool in the fight against subcutaneous fat and "orange peel". For sweets and chocolate lovers, such a scrub is supplemented with 1 bar of bitter chocolate melted in a water bath.

With sea salt.

Thanks to sea salt, the upper layer of the epidermis is cleared of all toxins and harmful substances. And honey very well softens and nourishes the skin, both during the procedure and after it. To prepare this miraculous mixture for the whole body, you need 200 grams of ground sea salt without dyes and additives and 100 grams of liquid honey. Apply such a scrub to gently spreading over the whole body with a thin layer. For the mixture to act effectively, hold it for 5 minutes on your body and then rinse the scrub off the skin with massaging movements.
Important advice.Before applying any body scrub, pre-check if you are allergic to any of the components of the home remedy.To do this, apply the prepared mixture in a small amount on the wrist and wait 7-10 minutes. If there is no reaction (itching, redness), then feel free to use your own self-prepared scrub.
The frequency of these procedures will depend on your skin type. For normal skin, cleansing with scrubs is allowed 2 times a week, for oily skin - 3 times a week, and if you are the owner of sensitive and dry skin, then it is better to use scrubs no more than once a week.
Sunbathe safely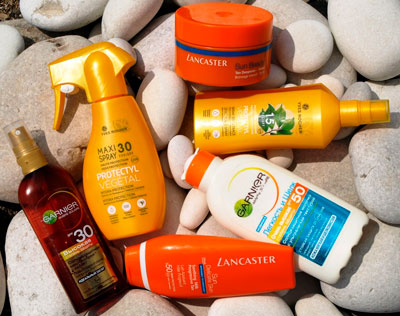 The sun gives us positive emotions, vitamin D and charges us with positive. But, unfortunately, this is not the only way the sun's rays can bestow on us. If you sunbathe without knowing the measure, there is a chance to get burns, premature aging of the skin and even skin cancers. Therefore, when going to the beach, always follow a few simple rules:
Just before going to the beach you need to take a shower or bath at least 2 hours. And do not use ordinary soap. Because it strongly dries out the skin and deprives it of its natural fatty coating, which protects the skin from strong sun exposure and burns.It is better to use a soft gel with a neutral pH.
Just as before visiting the solarium, you should not put makeup on your face. Sunburn thus will go on evenly and there will be no irritation on the skin due to mascara or lipstick.
Use sun protection cream or special oils with panthenol and bisabolol in the composition. These components reliably protect the skin from burns and at the same time contribute to a uniform and beautiful tan. Apply all means to a thin and uniform layer for half an hour before going to the sun.
Arrive in the sun at a safe time, before 11 am or after 5 pm. Since the rest of the time solar activity is at its peak and the rays quickly and deeply penetrate the skin, causing serious burns, even with the use of protective creams.
After sun moisturizing care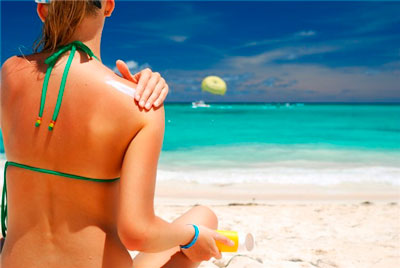 One of the important conditions for a good and durable tan is sufficient skin moisturizing. If it is dry, then with a long stay in the sun, it will burn rather than acquire a beautiful tan.
In order to consolidate your newly acquired tan, it is enough to rinse the skin with warm water after being on the beach and moisturize it.The best means for this are creams with panthenol, alover or biofin in the composition. Thanks to these components, the skin is restored, toned and gets extra moisture. And in order to consolidate and further support the tan, use sea buckthorn oil for the skin, it nourishes the skin with vitamins and gives it an additional golden color. Also, many cosmetologists advise to strengthen the resistance of sunburn by eating fruits and vegetables rich in beta-carotene. It is found in carrots, pumpkin, tomatoes, red pepper, persimmon, apricots, melons, black currants and peaches.
Our tips will help you not only to keep a beautiful shade of tan for a long time, but also to properly protect your skin from the negative effects of sunlight.