Everything about life, people and relationships. ...

Global rating average: 5.0 out of 5
Dishes for Epiphany Eve and Baptism of the Lord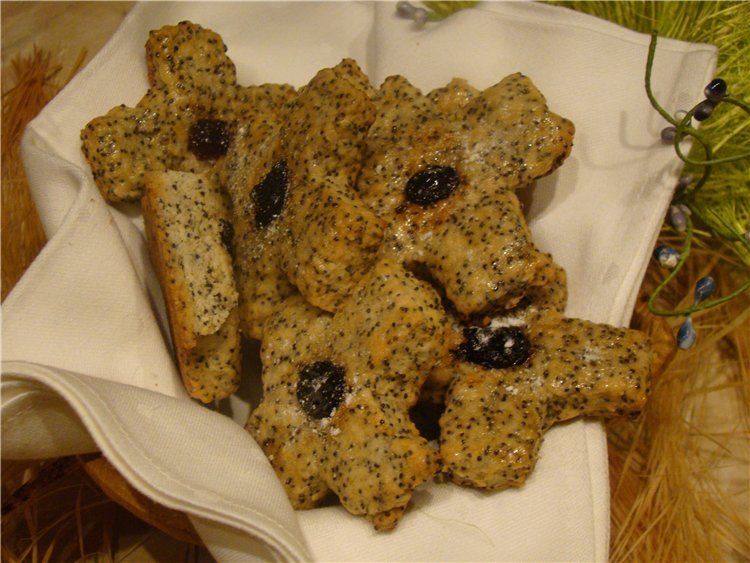 On January 18, the mistresses traditionally bake ceremonial cookies - crosses.The first morning meal on January 19 for each of the household should consist of this cookie, which is supposed to be washed down with holy water.
There must be special cookies - personalized. The mother of the family, when she rolls the dough and molds it, marks some flour products only with her knowledgeable badge. For me, a highlight, for a husband - poppy seeds, for a son - aniseed, for a daughter - cumin or simply squeezes out the first letter of the name with a knife.These symbols, taken out of the oven, tell us what life cross will have to be carried in the coming year to all family members.
A well-baked yellow-pink cross promises health, success, and well-being. The one to whom such a cross falls out can then be sought all the year round for intercession, sympathy, advice. Cookies with cracks and breaks predicts difficulties, changes in fate. But a burnt or unstable cross promises sickness, mental trauma, sadness.
These last crosses are not allowed. They must be carried outside and fed to the birds. Heavenly creatures, according to signs, help to abate grief. Household unlucky cookies are meant for, should not know anything about a bad omen. They treat themselves with ruddy spare crosses from an additional baking sheet, so the mood does not spoil anyone's holiday.
Find a pretext to be on the air on January 19, soak in the Epiphany frost, giving youth and energy.Everyone needs to accomplish a feasible feat: to break away from the table with delicacies and walk along the street for at least half an hour, as is the custom of the people.
Below are somerecipes for ritual dishes for the Epiphany Christmas Eve and the Baptism of the Lord.
Wheat and pea grains should be picked, rinsed, poured with cold water, boiled and rubbed, adding vegetable oil (better hemp) and salt, mix well.
Serve chilled.
CREAM COOKIES
Ingredients:
250 g of wheat flour (preferably gluten-free), 1 egg, 125 g of oil, natural sweetener, 1 glass of brandy or rum, salt and vanillin to taste.
Cooking:
Of these products, knead the fresh dough and divide it into several parts. Each part of the roll up in the form of sausages.
Prepared pouches lay a cross on each other, lay on a greased baking sheet and bake in the oven until golden-rosy color.
PAINTS
Ingredients:
500 g of wheat flour, 250-300 g of water, 7-8 g of salt, 5-6 g of soda.
Cooking:
Pour water in which the salt is pre-dissolved into a saucepan, add flour (without gluten), soda, mix thoroughly.
Knead the dough and form flat cakes weighing 70-100 g out of it. Put the prepared cake on a hot, dry frying pan with a thick bottom (preferably cast iron) and bake first on one side, then on the other.
During baking, you need to ensure that the cakes are not burnt and not raw. If you pierce the baked tortilla with a clean spike and after extraction it remains dry, then the tortilla is ready.
As the pellets are ready, they should be removed from the pan and, folding one over the other, cover with a clean cloth.
Such flat cakes are best eaten fresh, not postponing until tomorrow.
You can bake them in a frying pan greased with vegetable oil.
POSTAL PIES
Ingredients:
For the dough: 800 g wheat gluten-free flour, natural sweetener, 1 tsp salt, sourdough, 2 cups of water.
For the filling: 350 g of pearl barley, 800 g of mushrooms, 2-4 onions, vegetable oil.
Cooking:
In a large bowl, mix all the dry ingredients and add warm boiled water. Then knead the dough and cover with a bowl, put to approach. After the first rise, knead the dough, and after the second, cut the dough into patties.
Cooking toppings:
Cook pearl barley, to get not very viscous porridge. Salted or fresh mushrooms, too, boil. Fry finely chopped onion in a pan, then add mushrooms and barley.
Prepare the mince stuffed pies, put them on a greased baking sheet and bake in the oven.
APPLE KISSEL
Ingredients:
250 g apples, 3 tbsp. spoons of sugar, 2 tbsp. spoons of potato starch - for liquid jelly and 3.5 tbsp. spoons - for thick, 1 liter of water, citric acid to taste.
Cooking:
Peel apples, cut into slices, pour with hot water and cook in a sealed container until done.
After that, wipe, combine with the broth in which they are boiled, add natural sweetener, citric acid, bring to a boil, enter the diluted cold broth starch and bring to a boil again.
On this day, the church allows all sorts of dishes to your taste..
With the bright holiday of the Epiphany!