Christmas toys 2019 do it yourself. We make toys for the New Year from different materials
Good afternoon! I hasten to please New Year's ideas of toys, and those who have not yet made gifts for the New Year, I recommend not to delay this for a long time and select them in this
Tell me, what do you prefer to give for the New Year? And receive? Probably everyone really likes to receive toys on the Christmas tree, and just all sorts of souvenirs. We agree, I remember when I published a post about crafts for the upcoming holidays, so a lot of people sent me wishes and congratulations, so I also want to congratulate everyone on the upcoming!
Christmas toys with their own hands in the year of the boar (pigs)
Having written a last note about New Year crafts, letters came to me by mail asking me to publish more versions of what can be made of plasticine, I share with you my work.
Here it is beautiful!
Do you like to make Christmas trees and snowmen? Then use this step by step instruction with a photo:

Where do without Santa Claus, the kids just love to see him at the festival, let alone sculpt crafts especially.
Here such compositions can turn out.
If you want, you can even Pig Peppa and her brother George sculpt from a cartoon.
You can make a dog lying near the Christmas tree, let it bring good luck to your house heat will become a talisman.
Such a sweet and sad girl-puppy.
Or the playful joke that you select?
I remember once I had to work in kindergarten a long time ago, you understand that kindergartens are almost not funded, so at that time we made and decorated our group of which we could, in general, from all sorts of things. It was the usual foam or take a cheap ceiling tiles and this is what happened:
Agree, it seems there is nothing difficult, but it also looks original, with a twist.
Slightly more complicated, and time consuming toys are made from salt dough.
Beautiful toys made of felt on the Christmas tree
Now, as for the felt, well, a lot of ideas can be created and found on the Internet.
They have pretty simple patterns and patterns, you can draw them yourself.
Funny fawn.
Herringbone - forest beauty.
If you are interested in this Christmas tree, or such a bookmark for books in the form of a dog, then write to me below, I will send you templates and schemes.
Snow Maiden from felt.
And how do you find such wonderful creatures, if you decorate a Christmas tree with them, there are some shems in an enlarged form, they will soon appear in another article, or you will send an email.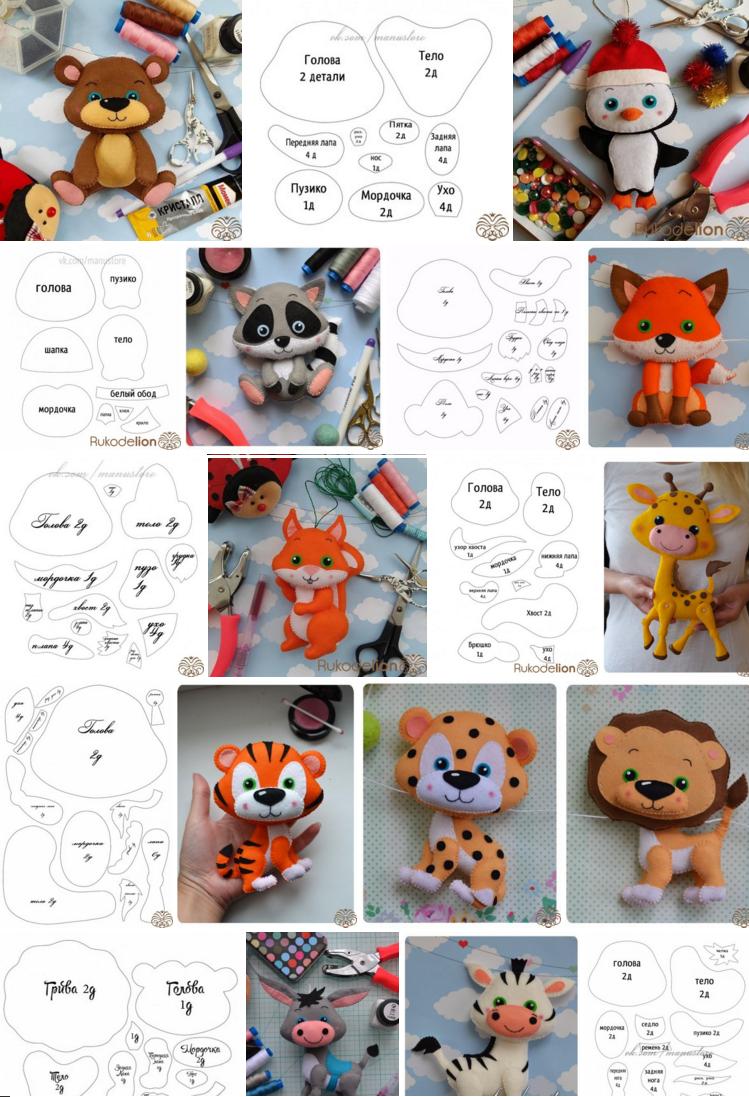 By the way, I was so hooked on the topic of felt that I would soon write a separate article on this topic, so expect fans, add my blog to your bookmarks and enjoy with me))). By the way, if you need crocheted knitted toys, then do not hesitate to go here, there is a whole bunch of them.
Master class of paper crafts in the form of balls and lanterns
Who does not like Christmas tree balls? Probably all just adore them, let's make an uncomplicated option.
You will need colored or colored paper, scissors and glue. Cut out of it will need 20 circles of the same size. And then act on this scheme, roll up as shown in these pictures.
Then, as shown, glue with a good glue, it is better to take erickrauser or PVA.
There is another version of such a ball on a Christmas tree made of paper.
And also I give you the most popular type of bead jewelery, in this video everything is very detailed and clearly shown, you need to repeat the necessary actions for the lead:
And here is another super idea that you haven't seen for sure yet:
For school and kindergarten I can offer such interesting lanterns, which probably everyone knows and remembers.
And another masterpiece in the form of a garland, it is not that unimaginably beautiful. Watch this video from YouTube channel:
Paper toys for the New Year
The first place can rightly be given to snowflakes of different types and in the style of origami and bulk options, who need all sorts of ideas and patterns, snowflake schemes, see this article here.
From paper stripes, too, it is easy to fold the various figures.
We make Christmas toys on the Christmas tree with our own hands from plastic bottles and light bulbs
Quite frequent hack, a souvenir, and even someone will give such a treasure as a gift, I recommend doing it at home. Just be careful if you make an article out of a light bulb, after all, this is not for children's little hands.
From plastic bottles will be safer and more durable.
Souvenirs from scrap materials
You can make crafts out of wire and knitting threads.
As they say, the idea does not come alone, it pulls the other along.
From satin ribbons and beads, balls.
In just a couple of minutes you can mold a chic spruce from cardboard.Cut out the fir-tree shape from the cardboard, use three patterns, then drag the threads.
Then glue a napkin on the glue, after drying, paint it with paint-gouache and decorate with beads.
Cool magic star of rope.
Love to collect cones in the forest, then make such a gift.
Can also be made from foamiran.
Do not believe it, you can even make a souvenir of oranges.
Using cotton pads you can make an angel:
Video on how to make toys in style shibbe chic
Well, I think you have not heard of this, so you can see this miracle in this video more clearly and repeat it. Indescribably beautifully turns out, and most importantly not very difficult, reminds decoupage.